Handcrafted Log Homes
Every step of a Sitka Log Home is meticulously and artfully handcrafted
There are many log homeowners but only a few can claim to live in a real handcrafted work of art. Our log homes are all handcrafted.
We do not mill our logs but instead each log is hand-peeled with a drawknife, hand scribed, chiselled and cut with chainsaws to form a perfect fit to the log below.
The process begins with the careful selection of each log.
Our typical house logs are an average of 12 to 14 inches in diameter, although larger is available. The logs are hand peeled using a drawknife, and then carefully scribed their entire length by transferring the natural contour of the lower log with a pencil line to the log above it.
The line is then chiseled by hand and then accurately cut with a chainsaw. Each log is fit with insulation within a V groove, and a Norwegian shrink fit saddle notch is used for the corners. We also build using other corner styles if you desire an alternate notch.







Click on images to view

Wood Species offered by Sitka Log Homes


Engelmann Spruce logs tend to be whiter than the other species available. It is very uniform, has a limited amount of knots and is very clean looking. However, it also tends to have larger "checks" (cracks) in the logs when the logs finish settling and drying. This is not a structural issue, but an aesthetic one.

Lodgepole Pine logs tend to have many knots, more "natural" scarring such as cat faces and crevices, and has some blue and grey streaks in it. It is generally referred to as more "rustic" looking with more "character", however, that should be qualified by saying that we have had pine log work in some of the most contemporary homes we have built.

Douglas Fir logs are very uniform, have very few knots and a light "orange" hue to the cambium (outside) layer of the wood with a deep orange/red heartwood color. It is the strongest of the species available, but really does not offer anything extraordinarily above the others.

The fourth species we offer is Western Red Cedar. We specialize in building with locally harvested Western Red Cedar.
Canada's Western Red Cedar is found only in British Columbia and is our provinces official tree. It is sometimes called arbor-vitae, Latin for "tree of life." The native coastal people used all parts of the tree making everything from dugout canoes, clothing and baskets and medicine.
Western Red Cedar can live to over 1000 years old and can grow to 70m tall with flared trunks up to 3-4m in diameter. Its fibres contain natural compounds that act as preservatives and provide natural resistance to moisture, insects and decay.
The soft red-brown timber has a tight, straight grain, few knots and is fragrantly aromatic making it one of the world's most beautiful woods.
Western Red Cedar is free from pitch and resin and has a low moisture content therefore a low shrinkage factor which makes it ideal for log home building. Its low density and air filled cellular structure make it the best thermal insulator among other softwoods. It does not require heat treating when imported into Europe.
We often use cedar for large feature posts and leave some of the flared trunk on the bottom. It is a beautiful and often stunning feature in many homes.

Occasionally homes have a variety of wood used. The main walls may be pine, the ridges may be fir and then they may have a cedar post as a feature accent log.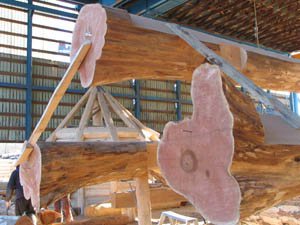 We Recommend: