3 Log Lodges Built For The 2002 Olympics
The growing popularity and appeal of log homes is obvious when a huge event like the Winter Olympics features log buildings in the background. With the knowledge that the world would be watching, the owners of Snowbasin Resort where the Downhill and Super G events were held, chose to build featuring massive log work. The result is the breathtaking beauty of logs blending perfectly with the outstanding surrounding scenery. The log buildings –ski lodges-- represent a safe, warm and welcoming repose for the skiers and spectators. Log work naturally accomplishes all this perfectly.
Sitka Log Homes was one of four North American log building companies pre-approved by Snowbasin's architectural firm to bid on the main day lodge. Sitka was awarded the job of providing all the log work. As completion of this lodge approached and the quality of craftsmanship became obvious, the owners awarded Sitka Log Homes two more lodges, the John Paul Lodge and the Needles Lodge, to be built farther up the mountain at close to 10,000 ft. in elevation.
Environmentally concerned, the owners requested that "dead-standing" Spruce be used in the projects. All the timber was found in Sitka Log Homes own province of British Columbia. The region offers 80-120 year old, tight grained, straight and sound timber.
Earl's Lodge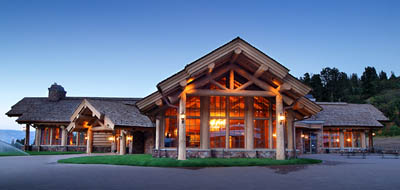 The 45,750 square foot day lodge (Earl's Lodge) at Snowbasin Resort, located near the finish line for the men's downhill and other 2002 Winter Olympic alpine ski races.

The two level building features six stone fireplaces, offices, restaurants, lounges and dining rooms. Spruce log columns 40 inches in diameter support 50 ft wide trusses of 24 inch diameter logs, while a grid work of large diameter logs are featured in reflective ceilings throughout the structure. The exterior features 18 inch wide half log siding and stone work. The main day lodge alone was 21 semi trailer loads of finished logs. The oversize spruce logs were harvested locally in our northern BC forests and were dead standing timber so no live trees had to be harvested.















Click on photos to view