Corones Camping Cabins

Three small log cabins were built by Sitka Log Homes for Camping Corones in Rasen, Italy. The small town of Rasen in northern Italy lies at the entrance of Aneterselva Valley, known for its natural beauty and impressive landscapes. Guests of Camping Corones enjoy a warm and cozy atmosphere during their stay in these Canadian handcrafted log cabins.
- The Floor Plan
The floor plan for this small log cabin is 21'6" by 24'6"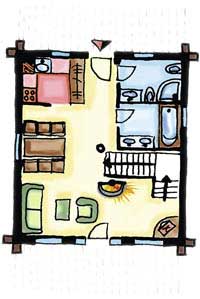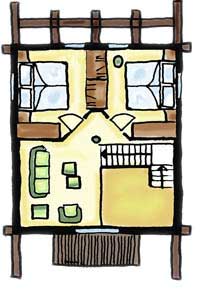 This log cabin floor plan was designed by the owners to suit the needs of their guests while enjoying their camping holiday. The three identical log cabins were built using Douglas Fir.
Whistler Riverside Camp Cabins

Riverside Camp located in Whistler, BC hired Sitka Log Homes to build fourteen small handcrafted log cabins for their camp site.
- The Floor Plan
These 14 small log cabins had a floor plan of only 16' by 18' 6"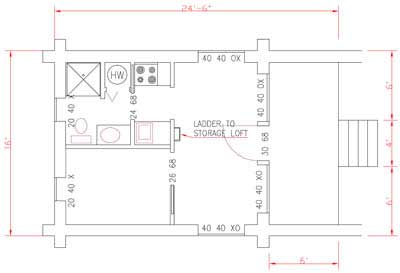 The plans for the log cottages called for only 16 ft by 18 ft on the inside, but demonstrate a great use of space. There is a 6 ft porch with handcrafted log railings, a small kitchen, bathroom, living room, bedroom and even an upstairs loft. One of the log cabins was built to accomodate wheelchair access.